60 Years. $60,000. Let's Build a CILT Cabin!
Update – The CILT Cabin Campaign Fund continues to grow. We are getting closer and closer to reaching the goal thanks to the generosity of the Silver Lake community!
March 20, 2021
We are excited to officially launch the first fundraising campaign to celebrate Silver Lake's 60th Anniversary!
60 Years. $60,000. Let's Build a CILT Cabin!
Silver Lake was started by young Mennonite leaders in 1961. From then until now, Silver Lake has empowered young leaders. The Camper in Leadership Training program (CILTs) has been a cornerstone of the Silver Lake experience. The CILT cabins are the last cabins at camp that need replacing. As we support young leaders and meet the demands of an expanding leadership program, this project of building a CILT cabin and rejuvenating the CILT area is the perfect fit for the 60th Anniversary, honouring camp's past and preparing for the future.
Be sure to scroll down to see CILT groups from the past! Can you find your crew? If you have any other photos of CILT groups, please send to fun@slmc.ca. We would love to fill in the missing years!
We have currently raised $66,345 towards our goal! Your gift, big or small, could help us reach $60,000!!!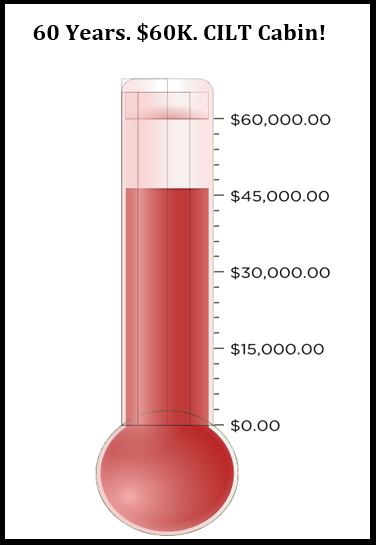 You can donate online quickly and easily here:
Donating online through the above link is the best option for camp! However, we are still happy to accept donations by other ways.
Cheques can be mailed to: Silver Lake Mennonite Camp, 209-50 Kent Avenue, Kitchener ON N2G 3R1  (*please mark 60th Campaign on your cheque)
E-transfers can be sent to fun@slmc.ca (no password required)
The Fine Print: Any funds that go above and beyond the goal, will be saved for CILT area improvements and additional building expenses. Due to current high building material costs, it's expected that the total price to build the CILT cabins will be higher than the original estimate.
Thank you in advance for your support and generosity, not only this year, but over the past 60 years at Silver Lake!
April 7 – Second CILT Cabin Announcement!
At this time, we are thrilled to announce that on behalf of the Henry & Nancy Pauls Family, a generous donation has been made, in the amount of $60,000, to go towards a second CILT Cabin! This special gift, made in memory of Henry, is such a fitting tribute to honour Henry's legacy and years of service at Silver Lake. (Henry, a long-time Silver Laker, passed away in May 2020.) Our heartfelt thanks goes out to Nancy and the Pauls family for their generosity and continued support of Silver Lake. What a gift to our leadership program and future CILT groups!
Scroll down to see CILT Groups from the Past!
** Attention long lost Silver Lakers! To reconnect with camp or to be added to our Staff Alumni list, please fill out the following…