Silver Lake cooks have lots to say!  Read about what they love about cooking, recipes, and camp!  Erika, Liz and Michael will be head cooks at various points throughout the summer and Ben will be supporting the effort with fantastic baking skills for the last two weeks.  If this post doesn't make your mouth water I don't know what will!
Erika Falk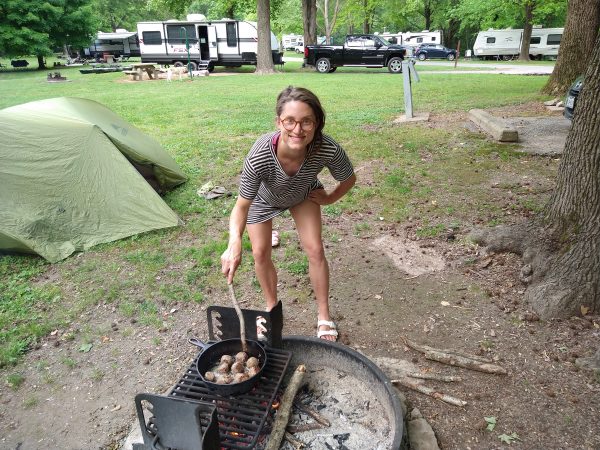 What I love about cooking:  It is an honour and a joy to feed people! The thing I love most about cooking is the process. The way you start with a list or a recipe, go through chopping and measuring, it's a flow state for me. Everything else falls away and I feel content and present (most of the time). And the end result, if you're lucky, is delicious and nourishing to the body and soul.
A favorite recipe, I couldn't pick just one! Recently, with a baby and with it being wintertime, I've been into sheet pan dinners. I make a really nice, simple chickpea confit that has red onions and canned tomatoes. You can add chicken thighs or leave it plant based and it's very grounding, herby zingy and great with bread or rice and salad. I love a soup or casserole, something that can have a lot of veggies in it as well as beans or lentils for fiber and protein. As well, dishes where each person builds their own plate are great for feeding folks with different preferences. Lookin at you, taco salad! I'm always baking something new too, whether it's trying herbs and seeds in my sourdough bread or a variation on classic chocolate chip cookies. I made a batch this week with coconut oil and shredded coconut instead of the usual oats. So good.
Cooking at camp is so many things to so many people, so it's a big responsibility and I take that seriously. Food is so central, so basic but also really emotional and nostalgic, even spiritual. What we eat is what we are made of! Food and love and sunlight, all of which we are getting lots of at SLMC. The meals I'll cook this summer will connect back to my days as a camper, and on staff all those years with the classic dishes we expect like the cookout on the first night of camp. I also hope to bring to the table (heh) as much fresh fruit and veg as possible, options for all the dietary preferences/needs that are equivalent to the main for everyone else in taste and nutrition, and plenty of fun food experiences because it's so much more than just fuel! I love when campers get involved in cooking, so I hope we will see baking projects and kitchen sessions this summer too. I can talk about cooking, and about camp, forever so I'll leave it at that but I'm just really stoked to be back in the SLMC kitchen and be mixing up industrial sized meals for hungry campers, staff and volunteers.
Many of my favorite memories of SLMC are at the waterfront. As much as I love the heat and noise of the kitchen and dining hall, the water is a good break from that and I recall being out in a kayak by myself as a camper for the first time as such a core memory of self-efficacy. That's such a gift we get from camp, to be empowered to do something hard, or new, with the support of the group which makes you feel so proud of yourself. Worship at the waterfront is always so meaningful to me, as we receive the gifts of the land and water and give back our voices raised in song.
Liz Klassen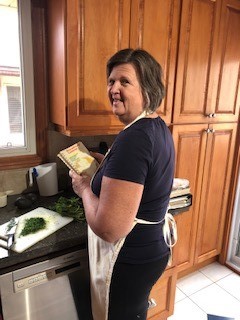 What I love about cooking:  Can't think of anything that makes people smile more than food. At camp the day is so full of activities that even children who are light eaters or "fussy" eaters are eager to see what is to eat. Cooking and meals bring out stories and form memories of camp.
Favorite recipes:  What I liked as a kid at camp: Mazzetti, chocolate oven pudding, egg boats, hot oatmeal porridge on a cold morning or after morning dip  What I like to cook: zweibach, soup, platz, willing to cook or bake just about anything that makes the staff and campers happy!
What cooking at camp means to you: My first time as Head Cook was when my son Chris was one year old – we spent the entire summer up at Silver Lake – great time. Cooking at SL is about being at the hub or nerve centre of the camp…cooks are often the (informal) welcoming committee and as we cook (and eat meals together) we have a wonderful time getting to know other volunteers and staff in a way that is so unique, with lasting memories.
Favorite memory of SL:  Well, Silver Lake is where I met my husband (Gerry Steingart) and where we made so many friends. SL draws us both back to good memories and lasting friendships that we continue to have all these years later. Memories of cooks from years gone by remind me of a number of women who came to SL to cook who at the time seemed SO OLD – I was amazed by their stamina in the kitchen and the skill and knowledge that they imparted. A few women I recalled in this category were Annie (Ma) Bergen, Marie Reimer, and Irma Kaethler – amazing women.  When I was initially working in the kitchen a good portion of time was spent cleaning up our messes (ton's and ton's of mixing bowls, pots and pans) NOW more time is spent on the fun aspect of baking and cooking and sending the dirty dishes to the wonderful dishwasher run by an amazing group of staff to do the clean up! Go team!!
Michael Born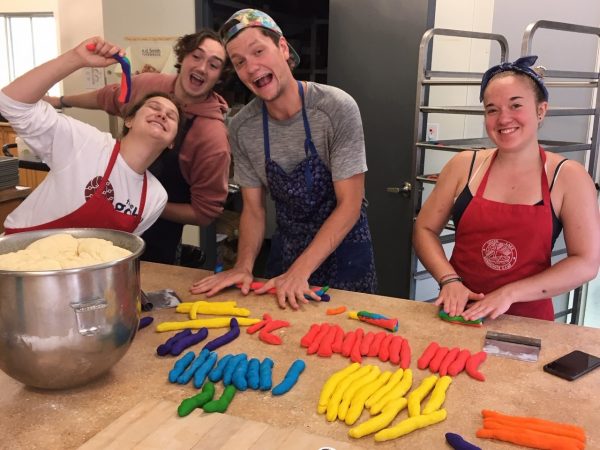 What I love about cooking:  I love cooking for the people that I love and get to share the food with. It is such a wonderful way to bring together a community and stimulate good conversation. I have also learned so much from my Mom and Dad (Marlene Epp and Paul Born) about cooking and feel so lucky to get to give back meals to them after they have made however many thousands of meals for me.
Favourite Recipe: I don't often use recipes as I like to cook by feel and recipes don't allow that to be taken into account. In terms of favourite things to cook? I would say Indian is up there, I love making huge amounts of fried chicken for big groups, and recently I've gotten really into making Bao buns with BBQ pork inside.
What cooking at camp means to me:  I absolutely LOVE cooking at camp. Silver Lake has been such a special place in my life and every person that comes down Pine Forest drive allows camp to continue to run and thrive. The love that I have for camp is transferred to these people who make camp what it is. When you love the people you are cooking for, the food tastes better and the process of cooking is made so much easier because you are doing it for the people you love, rather than just because you need to eat. It becomes a very spiritual experience being able to convey love for people through your cooking.
Favourite Memory of Silver Lake: Leading the CILT program in my fifth year. It is such a cool system where you go through CILTS and learn from your CILT leaders how to be a staff member and how to give all your love to camp, and then when you are a CILT leader you put your own flare on what your CILT leaders taught you and it keeps the culture of SLMC alive and it's just such a beautiful system of giving back. I really love that part about camp.
Ben Schwartzentruber
What I love about cooking:  The exciting mix of planning and improvisation that makes a meal come together.
Favourite recipe at camp:  Pizza rolls 🙂
What cooking at camp means to you:  Making and sampling yummy food! Waking up early to ensure campers and staff are well fed.
Favourite memory of Silver Lake:  Playing endless gaga ball as a camper! Eating meals and socializing in the dining hall!