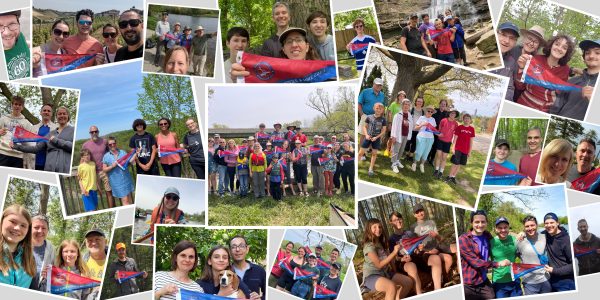 Amazing things happen when the Silver Lake community comes together.
Camp surpassed its $60,000 goal for this year's Grand Paddle and Hike fundraiser with $65,030, marking the highest amount in the event's 14-year history.
Silver Lake extends a big THANK YOU to the 42 teams and 110 participants, many donors, and sponsors: Kindred Credit Union, Green Acre Park, Martin's Bus Service and Display Ontario. Everyone's hard work and generosity made a huge difference in reaching $60,000, and will make it possible to provide campers with yet another fun-filled summer!
We thank Abe Fehr and his company, Uni-Fab, who provided a $10,000 donation at the end of the event to exceed the goal.
The top fundraising participant this year was John Enns, bringing in a total of $3,205. The SLMC Board was the top team, raising $4,035.
This year's event took place the weekend of May 12 to 14 and involved a group paddle, bike ride, dance and multiple hikes. The paddle had the biggest turnout since before the height of the COVID-19 pandemic, with teams filling 11 boats.
The 15th annual Grand Paddle and Hike fundraiser is scheduled for Saturday, May 11, 2024.
Once again, thank you, Silver Lake community. You truly are the best.